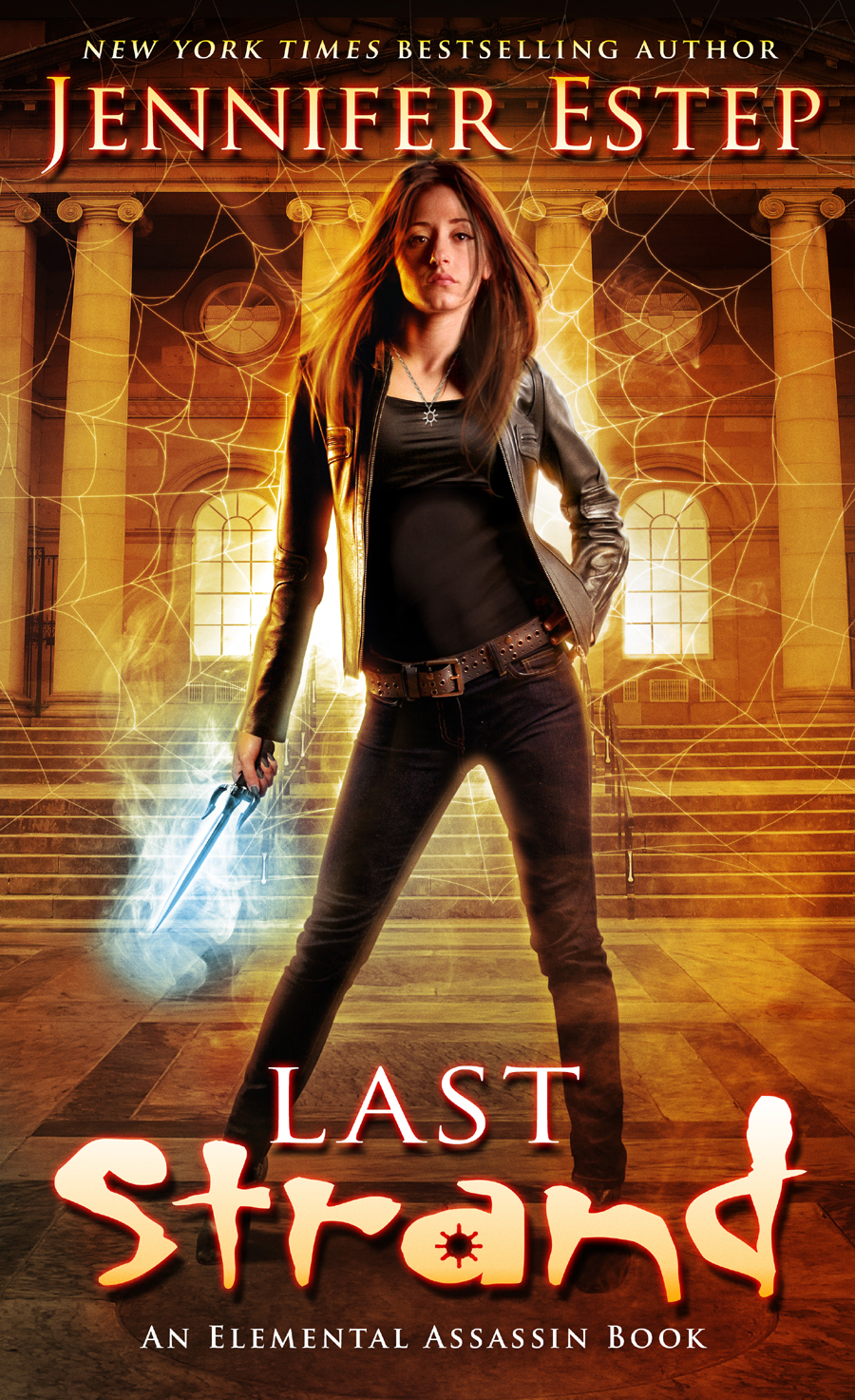 Every bloody thread has been leading to this . . .
I've battled a lot of bad guys in my time, both as Gin Blanco and as the notorious assassin the Spider. But I've never faced off against anyone quite as powerful and deadly as the dastardly leader of the Circle secret society.
Just when I finally have a lead on how I can defeat the evil group once and for all, new information comes to light that throws me for a loop. Suddenly, everyone and everything I love is in imminent peril of being destroyed, and I'm racing against the clock to figure out a way to save my friends.
The stakes couldn't be higher, and the danger has never been greater. Somehow, I need to weave one last strand in my web of death—and kill my enemies before they kill me . . .
Warning! Mild spoilers below
Well, it's time to say goodbye to Gin Blanco…..for now.
Last Strand is the 19th installment of Elemental Assassin series by Jennifer Estep. The story opens up with Gin searching the hidden money Fletcher stole from the Circle at. Luckily, Gin and her group are able to locate it at a bank that has a lot of strict security measures. However, trouble happens before they can get it out of the bank especially when word gets out that she's found the money. The Circle leader and Gin's uncle, Mason Mitchell, kidnaps  Gin's sister Bria, ruins a wedding between two of Gin's friends, and puts a target on all of Gin's friends. Worst of all, he almost succeeds in killing Gin. Unfortunately for Mason, Gin has been in too many battles to give up now. Now with the help from her family and all friends, Gin begins her plan to take down Mason.
Overall,  Last Strand was perfect ending and a great final showdown between Gin and Mason. I have not read one that intense since the final showdown between Gin and Mab. It's definitely a showdown that will leave you on the edge of your seat until the last page. Jennifer Estep did a well job closing the series and giving the characters their well deserve rest……for now. Last Strand may be the final installment to the series and the ending can be seen as a perfect ending to the series but who knows? Jennifer Estep did say she would write stories about the supporting characters in the future so we can still see Gin. However, for now it's time to say goodbye to Gin until the day comes.
"My name is Gin, and I kill people.
Always and forever."