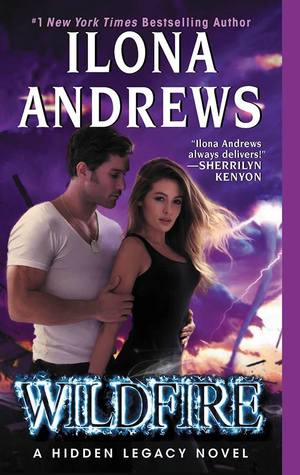 From Ilona Andrews, #1 New York Times bestselling author, the thrilling conclusion to her Hidden Legacy series, as Nevada and Rogan grapple with a power beyond even their imagination…
Nevada Baylor can't decide which is more frustrating—harnessing her truthseeker abilities or dealing with Connor "Mad" Rogan and their evolving relationship. Yes, the billionaire Prime is helping her navigate the complex magical world in which she's become a crucial player—and sometimes a pawn—but she also has to deal with his ex-fiancée, whose husband has disappeared, and whose damsel-in-distress act is wearing very, very thin.
Rogan faces his own challenges, too, as Nevada's magical rank has made her a desirable match for other Primes. Controlling his immense powers is child's play next to controlling his conflicting emotions. And now he and Nevada are confronted by a new threat within her own family. Can they face this together? Or is their world about to go up in smoke?
Warning! Mild spoilers below.
Wildfire picks up a couple of days after the events of White Hot. Nevada has finally accepted her feelings for Connor "Mad" Rogan and have finally started a relationship. However, this new relationship is quickly put to the test. First, In order to prevent House Tremaine's claim on the Baylors as part of her House, Nevada decides to make the Bayors their own House which will buy time and some protection from House Tremaine. Second, Nevada takes on a case requested by Conner's ex-fiance Rynda Sherwood, who's husband has been missing for awhile and fears he has been kidnapped. Now why choose Nevada's firm? Its because Rynda is now shunned by everyone she knew because of her mother's involvement and actions in White Hot. Despite the awkwardness, Nevada agrees to find Rynda's husband but things soon become clear that his kidnapping has to do with the secret conspiracy involving a number of Houses determined in destroying the established hierarchy in order to create a new Rome led by a Caesar.

Overall, like I said before in my review on White Hot, Wildfire was worth the excruciating wait! If you've been following the Hidden Legacy series or a fan of Ilona Andrews then Wildfire will not disappoint you. It was great watching Nevada and Rogan's relationship finally getting serious. Sure, there were a few tense moments due to Rynda who obviously wanted Rogan as her backup. Nonetheless, Rogan and Nevada showed fans just how deeply their devotion for the other is. We also get to know the full story on the Baylor sisters abilities which even they didn't know how it was possible to have a range of different abilities. We already know where Nevada got her truthseeker abilities but what about Catalina and Arabella? The latter who turns out to have quite an ability. Yes, all questions will be answered in Wildfire. Well, all but one which I'm sure fans will know once they get to the epilogue. With that cliffhanger ending, lets all hope Ilona Andrews gives us at least one more novel.
*I received a Wildfire ARC from Edelweiss in return for an honest review.*