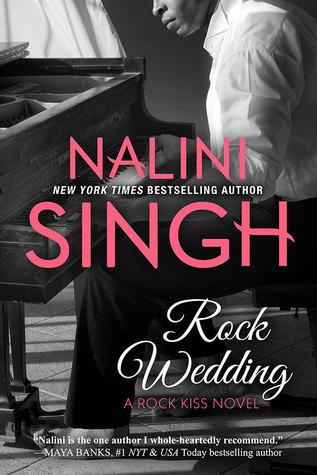 New York Times bestselling author Nalini Singh continues her Rock Kiss series with a hot, sweet, emotional contemporary romance about love and forgiveness…
After a lifetime of longing for a real family, Sarah Smith thought she'd finally found her home with rock star Abe Bellamy, even if she knew Abe didn't love her the way she loved him. But their brief relationship, filled with tragedy and heartache, nearly destroyed her. Alone, emotions in turmoil, and already shaky self-esteem shattered, Sarah struggles to pick up the pieces in the wake of their divorce.
Abe knows he's to blame for the end of his marriage. Caught in a web of painful memories, he pushed away the best thing in his life – the sexy, smart woman he adores – breaking them both in the process. Then fate throws him a second chance to get things right, to prove to Sarah that she means everything to him. Abe desperately wants that second chance at love…even if he knows he doesn't deserve it.
But can he convince Sarah – now strong and independent without him – to risk her wounded heart one more time?
Warning! Mild spoilers below.
Nalini Singh has never failed to amaze with her ability to capture your attention from the start of the novel until the last page.
Which is exactly what she did with Rock Wedding, the last installment of the Rock Kiss Series, which was an emotional roller coaster but despite the ups and downs, it was still amazing.

The main couple in Rock Wedding if you do not already know are Abe and Sarah. Now if you've read Rock Redemption, you should remember that we learned details about Abe and Sarah's marriage and the two got a divorce due to Abe's drug addiction and abusive behavior. Not just any divorce but a divorce that turned into a nasty and vindictive one. After the divorce, Abe and Sarah never saw each again until Rock Redemption.
Rock Wedding starts off with a flashback to the night Abe and Sarah's marriage finally ended. After  hearing from a junked-up Abe that he doesn't love her as she loves him, Sarah decides to leave him. Sarah soon meets and receives help from a kind individual named Jeremy Vance and begins the divorce process.
We then jump to the present and its days after the events of Rock Redemption. Sarah is recovering from the end of a abusive relationship with Jeremy and is still depressed about the loss of her baby which was stillborn. Abe on the other hand has finally gotten his act together and is clean after a long fight with his drug addiction and alcoholism. After eight months of being clean and sober, Abe is determined to stay that way and make up for his past actions while he was off the rails. That includes Sarah who still loves and wants to make it up to her for the way he treated her during their marriage. However, there's just one problem with that. Sarah's no longer that delicate weak willed woman that Abe knew. She's now a strong independent woman who isn't ready to trust her heart to Abe again.
Overall, it was a great book to read despite many moments that heartbreaking to read in Rock Wedding. Before Abe and Sarah met each other, they each suffered from painful events that happened in their pasts. If that wasn't bad enough, Abe and Sarah each hurt the other so much during their divorce despite the fact they loved the other. This made the reconciliation painful but sweet and beautiful to read. Abe worked so hard to make it up to Sarah and it was great to see them worked their way back to each other and have a second-chance romance. Nalini Singh truly did a magnificent job with Rock Wedding as the final installment of the Rock Kiss series.
It's always sad to see a series end but this is not the case. There's a chance we'll see the Schoolboy Choir family again but as side characters. That's right, look forward to a future spin-off series Nalini Singh has planned that involve a certain group of rugby playing brothers we all know from book 2, Rock Hard. I hope you all enjoy Rock Wedding because I sure did.
*I received Rock Wedding from TKA Distribution via Netgalley in return for an honest review.*