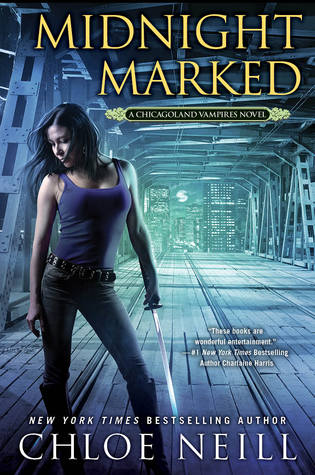 As the Chicagoland Vampires series continues, Merit and Ethan find themselves in a deadly game of cat-and-mouse, where winning may require the ultimate sacrifice…
A vampire's grudges don't stay dead long…
Merit is one of Chicago's most skilled vampire warriors; these days, she doesn't scare easily. But she and Master vampire Ethan have made a new and powerful enemy, and he won't give up until he owns the Windy City.
With his last plan thwarted, he's more determined than ever to watch Cadogan burn. Ethan has put the House's vampires on high alert, but their enemy will stop at nothing, including pitting vampire against vampire…
In this deadly game of cat-and-mouse, the stakes are life or death—and winning might mean sacrificing everything…
Midnight Marked started off with a bang! Or should I say murder? That's right, what was suppose to be a trip to the ole ball game turns into a search for the killer of a shifter. Oh, did I forget to mention that the killer's a vampire? You can probably guess already that the shaky alliance between Gabriel's shifters and Ethan's vampires becomes even more shakier and that's before certain skeletons come out of Gabriel's closet.
As always, Chloe Neill adds small subplots that are eventually connected to to main plot. Some were resolved and the others will probably be resolved in the final novel.There's one subplot that I did not see coming. Sure, I wondered about it but I never expected Chloe Neill to actually bring it back. I'll give to a hint, it's a subplot that has to do with an event that occurred in Some Girls Bite.

Now Methan fans, I can definitely say you're going to love Midnight Marked! Despite, Ethan and Merit being in the middle of a supernatural war, they're finally a stable couple who are now comfortable around each. Of course, there was a bit of trouble in paradise, don't worry this time they were both a fault. However, even though they're not always well balanced, they learn from their mistakes and their relationship grow stronger. I would definitely pick Midnight Marked as my favorite Methan novel of the Chicagoland Vampires. There were so many scenes of Methan that were adorable, passionate, frustrating, hot, aggressive, and hilarious. Normally, I do not pick a favorite but there's one scene that I loved the most and you'll know which one I am talking about once you read the novel. However, that scene will probably loose its place of 1st in the next novel since there are unknown and mystery scenes about a certain prophecy we're all dying to see.

It feels like yesterday that I sat down on my bed and started reading Some Girls Bite. Now its a couple of years and 11 books later, we're now getting closer to the end of the Chicagoland Vampires.After finishing Midnight Marked in a day non-stop (I regret nothing!), I'll be honest, I do not want the series to end but I know Chloe Neill has made the right decision ending it at book 13. Merit and Ethan need to retire and enjoy their HEA. Who knows? Maybe one day we'll see them again.
*I received Midnight Marked from Berkley Publishing Group – NAL via Netgalley in return for an honest review.*