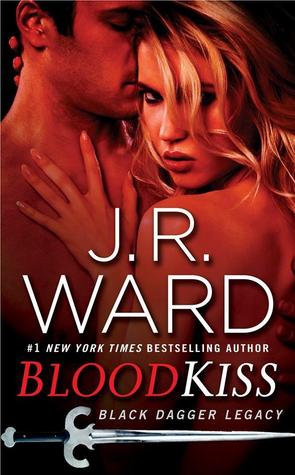 Paradise, blooded daughter of the king's First Advisor, is ready to break free from the restrictive life of an aristocratic female. Her strategy? Join the Black Dagger Brotherhood's training center program and learn to fight for herself, think for herself…be herself. It's a good plan, until everything goes wrong. The schooling is unfathomably difficult, the other recruits feel more like enemies than allies, and it's very clear that the Brother in charge, Butch O'Neal, a.k.a. the Dhestroyer, is having serious problems in his own life.
And that's before she falls in love with a fellow classmate. Craeg, a common civilian, is nothing her father would ever want for her, but everything she could ask for in a male. As an act of violence threatens to tear apart the entire program, and the erotic pull between them grows irresistible, Paradise is tested in ways she never anticipated—and left wondering whether she's strong enough to claim her own power…on the field, and off.
Warning! Mild spoilers below.
For those of you who do not know, in The Shadows there was a mention of a new training program that the Brothers were creating in order to help bring in new people to help them fight. Blood Kiss is the first novel of the new spin-off, the Black Dagger Legacy series which looks like we will not only focus on only the new recruits but we will also come back to see our Brothers along with their shellans. In Blood Kiss, the first ones up are Butch and Marissa.

Our first recruit is Paradise who we met back in The Shadows as the daughter of Abalone, the king's First Advisor and a member of one of the Founding Families. Now you would think being near the top of the vampire aristocracy would be a good thing but if you've met Paradise and seen how majority of the aristocrats are in the series then you can understand it is not something grand. Paradise wants to have a purpose in life other than what is expected of her in the glymera. Which is why after persuading her father, she joins the training program to learn to fight, to escape aristocracy, and be her own person.
Our next recruit is Craeg who lost his family lost during the Lessening raids. So you can guess already that he only entered the program to get revenge on the lessers and even a couple of aristocrats who caused his family's death. Unlike Paradise, Craeg fights against his feelings and his vampire instincts when it comes to Paradise and even goes as far as to treat her bad at times in order to get her to stay away. Of course, if you've read any of J.R. Ward's work then you know that's not possible.

Overall, I think the Black Dagger Legacy series is off to a great start with the release of Blood Kiss. The new characters introduced were interesting and I'm looking forward to their novels. It was also nice to seem some of the original characters from the Black Dagger Brotherhood series in this new serires.Though to be honest, I felt Blood Kiss to be like just another Black Dagger Brotherhood novels. However, I understand better now what J.R. Ward meant when she said she"getting back to the original brothers". Now,  J.R. Ward has brought back the characters we fell in love with to share the stage with the other pairing. Seriously, Blood Kiss was like 50% of Paradise and Craeg while the other 50% was Butch and Marissa. Haven't read so much Butch and Marissa since Lover Revealed. I can't wait to see what she has in store for the other characters old and new!