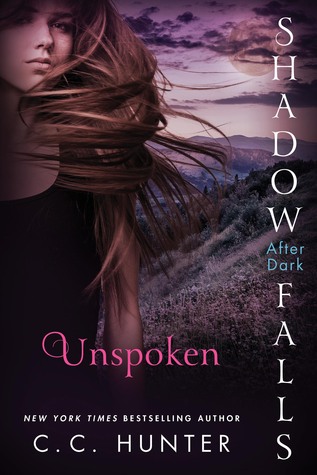 Despite her superhuman strength and enhanced senses, Della Tsang's life as a vampire certainly hasn't been easy. Especially since she was reborn and bound to the mysterious, infuriating, and gorgeous Chase Tallman.
But if there's one thing that's always kept Della going, it's her dream of being an elite paranormal investigator. Her newest case is the opportunity she's been waiting for, but as Della tries to solve the twenty year old murder and clear her father's name. She uncovers secrets about the vampire council. And about Chase.
Feeling betrayed by all the secrets he's kept hidden from her, Della is determined to keep him as far away from her heart as she can. But she'll need his help to solve the case that will lead them into the darkest and ugliest vampire gangs in town and into the scariest reaches of her heart.
Warning! Mild spoilers below.
The conclusion to the Shadow Falls: After Dark series has arrived and what a conclusion it was!
At the end of Eternal, Della Tsang's father was arrested and charged for the murder of his sister, Bao Yu that occurred twenty years ago.  Della knows her father is not capable of murder and is working hard to prove his innocence by trying to find out the man really responsible of the crime. Even when all the evidence points to him and Bao Yu's ghost keeps insisting he killed her, Della never stops believing in his innocence. To top it all off, Della is forced to work with her bondmate, Chase Tallman who she discovered at the end of Eternal has been lying to her all along about knowing her uncle. If you know Della then you can understand why she wants nothing to do with Chase after discovering his betrayal especially right when she was beginning to come to terms with having Chase as her bondmate.

Now, for those of you wondering the end result of the Chase-Della-Steve love triangle, I am sorry but that's something I am not going to spoil! Personally, I was disappointed that the pair I shipped sunk but what can you do? Besides, I am happy that Della finally got her chance of finding love after having her heart torn since before and after the start of the Shadow Falls series.
I won't lie but I 'm a bit sad Della's story is over and I'm going to miss reading from her POV. Reading Unspoken made me realize that Della has really grown up and matured from the Della we met in Born At Midnight. Though I'm sure we'll see her and her sassy personality again in future novels or novellas as a side character. After all, from the looks of it we might be getting Miranda's series because from what I've read in Unspoken the Shawn-Miranda-Perry love triangle is far from over. So let's hope C.C. Hunter hears our pleas for Miranda to get her own series!
Overall, the third and final installment of the Shadow Falls: After Dark series, Unspoken, was captivating! C.C. Hunter has once again written an epic conclusion to a wonderful series!  Unspoken was filled with twists and surprises that would not let me put the book down until I finished it. Another wonderful hit for C.C. Hunter so I hope you enjoy reading Unspoken. 
*This Unspoken ARC was given to me by the publisher via Netgalley in return for an honest review.*