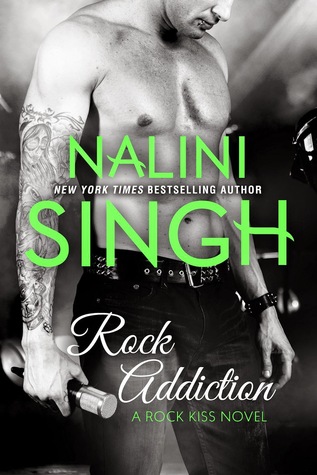 A bad boy wrapped in a sexy, muscled, grown-up package might be worth a little risk…
Molly Webster has always followed the rules. After an ugly scandal tore apart her childhood and made her the focus of the media's harsh spotlight, she vowed to live an ordinary life. No fame. No impropriety. No pain. Then she meets Zachary Fox, a tattooed bad boy rocker with a voice like whiskey and sin, and a touch that could become an addiction.
A one-night stand with the hottest rock star on the planet, that's all it was meant to be…
Fox promises scorching heat and dangerous pleasure, coaxing Molly to extend their one-night stand into a one-month fling. After that, he'll be gone forever, his life never again intersecting with her own. Sex and sin and sensual indulgence, all with an expiration date. No ties, no regrets. Too late, Molly realizes it isn't only her body that's become addicted to Fox, but her heart…
First I want to say I was bit surprised when I heard Nalini Singh was starting a new series. However, what surprised me the most was the change of genre Nalini Singh was taking in this new series. After all it's a bit strange to see an author go from Paranormal and Urban Fantasy on  to Rock Star Romance. Won't lie I had my doubts before trying this new series especially since I've never been a fan of Rock Star Romance. Nonetheless, Nalini Singh is one of my favorite authors so I decided to try the Rock Addiction out of respect and admiration for her.
Boy, was I wrong to doubt anything she writes…
Just like her Psy-Changeling and Guild Hunter series, the Rock Kiss series is off to a great start and looks like it'll be a great series!
Rock Addiction introduces us to a woman named Molly Webster , who due to a tragic past has a great fear of being in the spotlight. Once you know what happened to her as a teen you'll understand her reasons are not petty and the events in the past left a deep mark on her that's still with her. All Molly wants is live the white picket house dream and the last thing Molly wants is to be in the spotlight.
That all changes one night when Molly attends a party and spots Zachary Fox, the lead singer of the popular "Schoolboy Choir" rock band. Even though Molly is instantly attracted to him, Molly has no desire to involve herself with Zachary Fox due to constant fame and time in the spotlight. However, when she runs into him, they have a passionate and hot one night stand and later extend it to a full month.
From the moment he saw Molly, Fox fell and became captivated of Molly at first sight. So now Fox wants to show her what he can give her and even when things begin to get complicated, Fox shows his devotion to Molly even after learning her past and all so he can win her love and her heart…
Even though Rock Addiction was a steamier novel than most books I've from Nalini Singh, it was also an emotional novel and a bit darker than the Psy-Changeling and Guild Hunter series. Don't get me wrong, the Psy-Changeling and Guild Hunter series do have a bit dark in them but they're Paranormal and Urban Fantasy so it's different in this series because it's placed in the modern day and Molly's and even Fox's past can happen to anyone. It was great to see how Molly left behind her insecurities and fear to become a brave and supportive woman.
Overall, Rock Addiction was a great start to the Rock Kiss series and I'm looking forward to reading the next book especially because of the other characters in Rock Addiction who are just like Fox and Molly: complex and intense. Not to mention that there hints and glimpses of dark secrets shadowing the secondary characters just like Fox and Molly. So it's quite possible we'll be reading more heart-wrenching back stories in the next couple of books so start buying tissues.