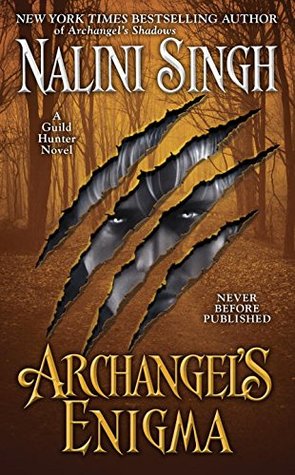 Nalini Singh has done it again!
Before and after Archangel's Shadows, I'm sure there were a lot of fans wondering and wanting to know more about Naasir. Also, Nalini Singh did an excellent job with the title because it was perfect for Naasir who was always a mystery in the Guild Hunter series. I mean come on, ever since Naasir appeared in the series there has been nothing but questions about him especially the question of what he is. Well, that's over now because Naasir's story and origins are finally revealed in Archangel's Enigma!
In the last installment, Naasir decided it was time for him to find his mate. Sadly, there's been no luck in finding her and Naasir believes that she's hiding from him. Naasir's search is put on hold when Raphael sends him on a journey to find and save the Sleeping Archangel of Persia, Alexander who is also being being hunted down by the evil but powerful Archangel, Lijuan in order to kill him. However, there's just one problem and that is an ancient's place of sleep is never easy to find because it is well hidden. Enter Andromeda, a young angel and a scholar who is assigned as a partner to Naasir in his mission of finding Alexander. However, Andromeda is not what she seems to be because behind that scholar face is a warrior and a woman with her own secrets. I won't reveal her secrets but I will say that Andromeda herself is on a deadline.
Now for those wondering about the romance between Andromeda and Naasir, it's something you're really going to enjoy. It takes place during their journey and it was enjoyable to read especially because of Naasir. Now as for Andromeda, it's obvious she would be attracted to Naasir but because of her secrets and a vow of celibacy she has taken. Do not worry about the vow since there are plenty of tender moments between Andromeda and Naasir along with some sexually tense moments.

Overall, Archangel's Enigma was a fantastic read of the Guild Hunter series and was brilliantly written. Normally, series beyond book 3 start to get dull which is not the case for Nalini Singh who's the opposite: the more books she writes the more exciting they get! So if you've enjoyed the other Guild Hunter novels, Archangel's Enigma will definately be one of your favorites. I can't wait to see where Nalini Singh takes readers next in her world of the Guild Hunter series.