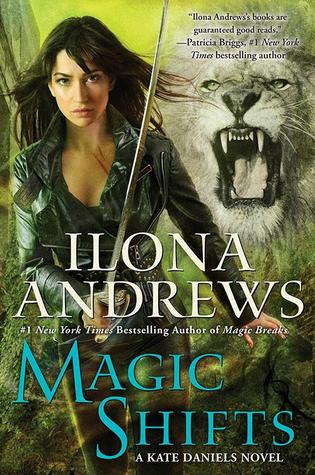 After the events of the previous installment, Magic Breaks, I'm sure some of us fans were worrying  and wondering if Ilona Andrews made the right decision when they decided on taking the Kate Daniels series in a new direction. After all, you have to admit Magic Breaks was and still is a must read for any Kate Daniels fan especially since it pivotal point to the series so it's a bit hard to top it. However, after reading Magic Shifts I was proven wrong because Ilona Andrews once again proved to us that this husband-and-wife writing team can still come up with awesome plots for the Kate Daniels series.

Now for the review just click below but beware for mild spoilers if you haven't read Magic Shifts.
Magic Shifts starts off two months after Magic Breaks, Kate and Curran are enjoying their new home and life separated from the Pack. It's not long before trouble comes knocking up to their door and in this case it's George, whose a werebear like her father Mahon, whose looking for help from Kate and Curran in finding her fiancé, Eduardo a werebison. Now if you remember the sort of person Mahon is then you can understand why George went to Kate and Curran since Mahon won't help look for Eduardo. Turns out Eduardo's disappearance is just the beginning  and connected to the trouble that comes crashing onto Kate and Curran.

It was interesting to see Kate and Curran living a normal life after their positions as the Beast Lord and Consort. I can tell you one thing watching Curran adjust to human society was fun to read and the same goes with Kate's relationship with her father.
You can tell by reading Magic Shifts that Ilona Andrews keep getting better and better, sure the story's a little mellow in the first half but it soon turns into a fast pacing novel. Plus, let's not forget it has the usual sarcastic humor, high level action scenes, cryptic mysteries, and  another type of mythology which in this case is middle-eastern and Islamic.

Wouldn't recommend this book to new readers since our main heroine and hero are starting a new phase in their lives also because it would spoil the previous books.
Now once again, the countdown for book 9 begins……