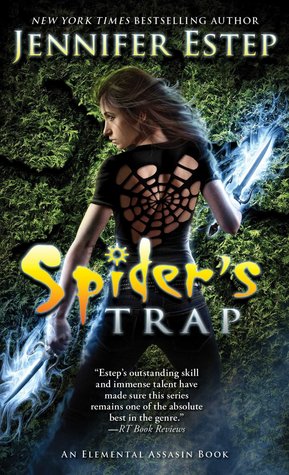 Jennifer Estep has done it again in this 13th installment of the Elemental Assassin series which I could not put down until the last page. Makes me want to get started on the next installment that's months away!
Now for the review just click below but beware for mild spoilers if you haven't read Spider's Trap.
I wondered where the series could go after the conclusion of the 12th book, Black Widow. Don't get me wrong, Black Widow was good but Spider's Trap was even more exciting!
Due to the ending of Black Widow, Gin is now "queen" of the Ashland Underworld which I'm sure you all know it's not a a title she wants to have. Not only that but now she has to referee disputes between the other mobster bosses who are still sending assassins to kill her. In one of those meetings, someone tries to blow the Delta Queen where Gin is holding the meeting and Gin soon discovers that the prep is a metal elemental just like her lover Owen Grayson but is stronger, enjoys suffering and collateral damage. Gin, once again takes on the role of  hunting down this elemental for threatening her and her friends. However, it turns out that Gin wasn't the target but one of the mob bosses who happens to be an enemy of hers.
Now here's something that will get you wanting to read Spider's Trap but also wanting to read the 14th installment, Bitter Bite which sadly won't be released until February 2016. Throughout  Spider's Trap, there's bits of foreshadowing of an even greater enemy and it's only until the end do we find out who the enemy is and boy did Jennifer Estep outdid herself with this twist! Won't say who it is but I will say that a question I always had (and I'm sure most of you have) since the 1st book of the series, Spider's Bite, is answered. Now what is Gin going to do? Jennifer Estep did well to plan out what looks like an even scarier battle than the Monroes.
Don't forget Spider's Trap  is set to be released on  July 28, 2015 but is available for pre-order.

* I received Spider's Trap from NetGalley in return for an honest review.*