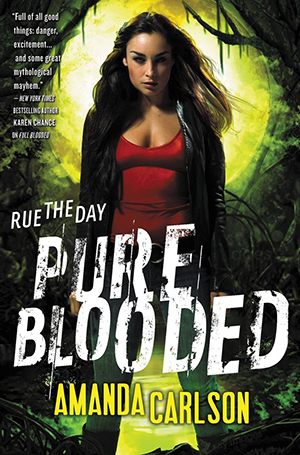 Hey, there!
Any fans of the Jessica McClain series? Because you all know whats coming out in a few days? Pure Blooded,  book 5 of Amanda Carlson's Jessica McClain series.
Be warned though there will be mild spoilers for those who haven't read the series.
In the last novel, Red Blooded, our one of a kind female werewolf Jessica took a trip to hell and back (literary) to rescue her twin brother Tyler although she did make another enemy in the process. Putting that behind her, Jessica's now focus on finding her father who has been in the Everglades battling rogue werewolves so Jessica and her group which consists of Rourke, Naomi, Marcy, Tyler, Danny, Ray, and Nick, head off to the Everglades to help out. However, on their way there the plane is hijacked by magic but Marcy uses her own magic and everyone lands safely…….in a swamp. It's there where they run into zombie alligators, snakes, ghouls, etc. Plus, once again a very powerful being is after Jessica and will do whatever it takes to get to her.
Jessica and Co. always seem to move from problem to problem and that's exactly how Pure Blooded ends but don't worry it doesn't end in a cliffhanger like the last book though we are given a glimpses of what to expect from the future novels. For example, it looks like for the next novel, Jessica and her group might be going to Italy.
One thing I love about this series is the non-stop action and the action in Pure Blooded was no different than the other books. Not to mention it was incredibly fun to read and makes me want to read the Jessica McClain series all over again.

* I received Pure Blooded from NetGalley in return for an honest review.*